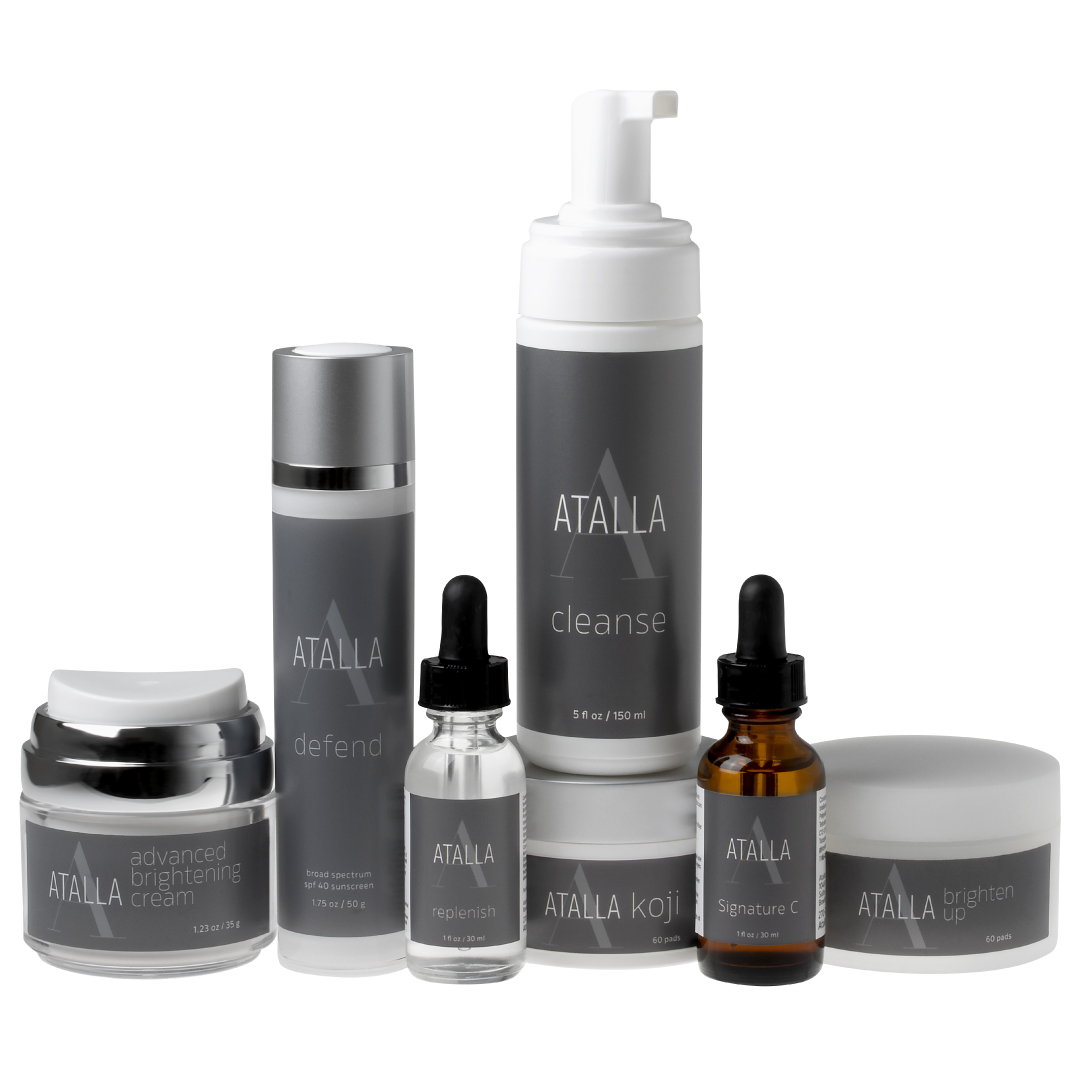 This popular line features Atalla's private label products.
This gentle, yet luxurious cleansing foam is ideal for any patient. The non-oily foaming mousse leaves skin feeling smooth and prepped for whatever is next in the regimen.
extra-gentle cleanser for redness-prone and sensitive skin

contains Evodiox , a powerful redness-reducing agent derived from the Chinese Evodia rutaecarpa plant. Evodiox contains a standardized mixture of Rutaecarpine and related alkaloids

foamy cleanser helps remove excess lipids without overdrying

100% fragrance-free
This antioxidant + BHA serum is what we call our "mother's helper." This high-potency Vitamin C, E and Ferulic Acid ester along with a keratolytic salicylate provides both short-term cutaneous exfoliation and longer-term antioxidant benefits. May be used in conjunction with a retinoid regimen.
CEGA30+FERULIC products are high-potency combinations of Vitamins C and E and Ferulic acid ester with a mild keratolytic agent.
contains Tetrahexyldecyl ascorbate, an advanced ester that bio-converts into L-ascor-bic acid in the skin
also contains Ferulic acid ester that works with Vitamins C and E to enhance their activity
available in a light serum for oily complexions, a SeruGel for normal/combination complexions and a cream for dry complexions—all vehicles are 100% fragrance-free.
This hylaronic acid + peptide complex is a highly concentrated acid-based gel that is enhanced by Vitamins B3, B5 and peptides. It's unique combination of ingredients is designed to enhance skin moisture and reduce the appearance of photoaging and dry skin.
a unique Hyaluronic acid-based gel designed to enhance skin moisture and reduce signs of photoaging
additionally contains Glycosaminoglycans and Sodium chondroitin sulfate, clinically demonstrated to inhibit matrix metalloproteinases which are generated by UV exposure and can break down collagen and elastin fibers within the skin
water-based vehicle is oil-free, fragrance-free and non-comedogenic, appropriate for use under make-up, sunscreen or moisturizer, or as a light-weight moisturizer for acne-prone skin
This is the first stabilized, daily-use product harnessing the keratolytic power of Nicotinyl trichloracetamide, a powerful resurfacing agent that helps shed older surface cells that make the skin appear sallow, dull and tired.
enhanced with skin brightening Kojic ester and Phenylethyl resorcinol
smooths skin texture and brightens while improving the appearance of fine lines and wrinkles
contains 0.2% Hydroxypinacolone retinoate, an advanced retinoic acid ester that provides retinoid benefits with less irritation
robust anti-oxidant benefits provided by Vitamin C+Vitamin E+Ferulic acid ester
an ideal way to amplify and maintain the effects of the Gloss Peel
This dual action dark circle treatment's efficacy comes from blood pigment appearance reducers Chrysin and N-Hydroxysuccinimide working together with brighteners Kojic Acid esther, Arbutin, Rumix extract, Vitamin C, Vitamin E and Green Tea. It's this one-two punch that helps reduce the appearance of "black eyes."
KojiLac-Ci Dual-Action Dark Circle Treatment Targets the two main causes of dark circles with a combination of brighteners, peptides and flavonoids
helps brighten pigmented skin with a gentle Kojic acid ester, Arbutin, Rumex extract and the anti-oxidants Vitamin C, Vitamin E and Green Tea
helps reduce the appearance of hemoglobin accumulation and its colored degradation products (biliverdin, bilirubin and iron) using Chrysin and N-Hydroxysuccinimide
This fragrance-free and preservative-free broad spectrum sunscreen provides an SPF of 30 and is ideal for daily photoprotection. The anhydrous silicone elastomer vehicle leaves a non-shiny, non-sticky film on the skin like that found in a primer. Available in tinted and non-tinted.
Welcome to our party pad! Your weekend just got brighter with this once-weekly at home peel pad that provides just the right amount of exfoliation and brightening using natural Lactic, Phytic and Azelaic acids. This product can be used to help extend the results of aesthetic procedures and be used to complement one of our medical skin care regimens.
A half-strength version of Melanage MiniPeel solution for use 1-2 times weekly to both lightly exfoliate and brighten skin
Ideal as a brightening and penetration-enhancing adjunct for patients on photoaging and hyperpigmentation treatment regimens
Exfoliating agent with reduced risk of PIH for higher Fitzpatrick skin types
Easy-to-apply pad facilitates uniform application to broad skin surfaces
This daily pad, containing Salycylic Acid as well as an astringent vehicle not only treats acne-prone skin, but also contains a skin conditioning peptide, Glycolic Acid and Lactic Acid. This is a favorite for teens!
The aha bha daily pads are intended as a daily treatment for acne and acne-prone skin. This solution contains 0.5% Salicylic acid in an astringent vehicle which includes a skin conditioning peptide, Glycolic acid and Lactic acid.
This at home daily pad is ideal for those fighting the stubborn hyperpigmentation and melasma caused by sun damage, pregnancy and hormones. This product may be combined with a medical pigment regimen.
Koji pads may be combined with a medical pigment regimen and are intended for all skin types except sensitive
Directions: Apply 1-2 times, daily or as directed
How Supplied: 60 pads
Koji pad products contain enzyme activated Arbutin in combination with Kojic, Ascorbic and Salicylic acids. Derived from the Bearberry plant, Arbutin is a chemically classified as a phenolic glucoside.
 Sunny days may leave more than just warm memories. Now is the times to fade those lasting impressions with koji pads. This unique formula combines potent brighteners including Koji acid, Arbutin, robust antioxidants Vitamins C, E, and Green Tea with a gentle exfoliator to brighten uneven skin tone, revealing a fresh, radiant appearance.
It's our answer to severely dehydrated skin. This in-office peel is an ingenious formulation of lactic acid and urea that gently exfoliates and moisturizes simultaneously…without the burn associated with traditional chemical peeling agents.
This in-office peel is designed to directly target stubborn hyperpigmentation and melasma caused by sun damage, hormones, pregnancy and acne scars. The result is a clear healthy complexion that screams "dewy."
Latisse® solution is a prescription treatment used to grow eyelashes—longer, fuller and darker. It is a once-a-day treatment applied each evening to the base of the upper eyelashes.
Bimatoprost is the active ingredient in Latisse®. Research suggests that the growth of eyelashes occurs by increasing the percentage of hairs and the duration of the growth phase. Lashes can grow longer, thicker and darker because bimatoprost can also prolong this growth phase.
Latisse® solution is the first and only prescription treatment approved by the FDA for inadequate or insufficient eyelashes.