Atalla's Spring Fling Kick-Off!
It's here. This Week. Virtually.
Join us at 9am daily on Instagram Live for product highlights, ordering info, and daily give-away announcements.
May 4th-8th
We've missed you all, and can't wait to see your beautiful faces in our office soon!
This week's event is limited to participation via social media, by phone or email.
PRODUCT
20% off skincare products
[VIP members receive 25% off]
INJECTABLES
Botox $11 per Unit
Dysport $4.50 per Unit
10% off Dermal Fillers + Kybella

Receive a $75 Product Voucher




with purchase of Botox or Dysport + Dermal Filler combo
GIFT CARDS
10% off $0-$100
15% off $101-$250
20% off $251 + up
******************************
Gift Cards may be redeemed beginning 5/11/20.
Not Valid for Injectable or Surgical Services.
Look out for lots of fun drawings and virtual events happening throughout the week!
GIFT WITH PURCHASES OVER $500
TO ORDER: Call or email for product purchases to receive discount. Discounts will not be reflected at online checkout.
Call 270-796-8960 or 270-843-6697
email info@atallamd.com
Free shipping and local delivery!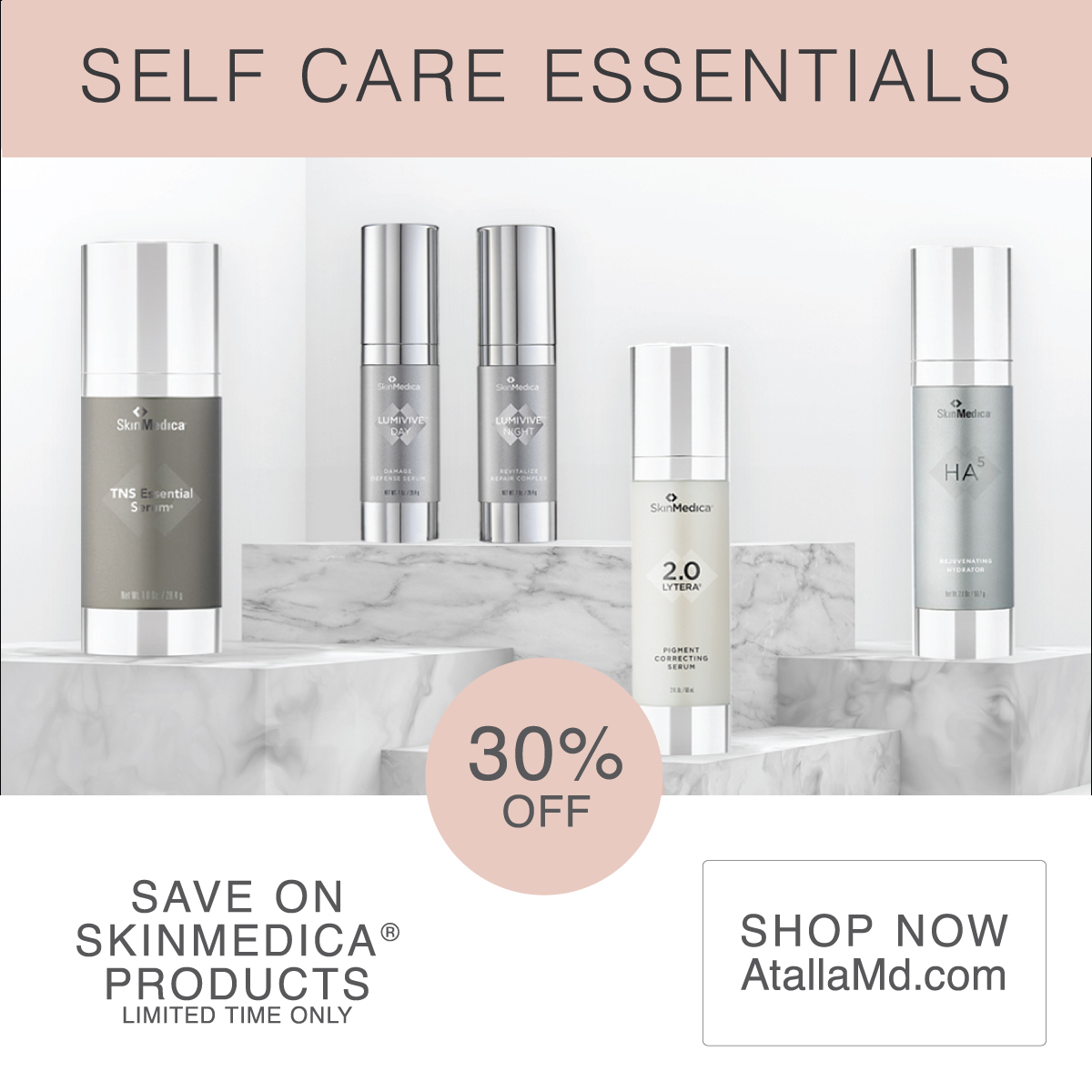 No need to put the brakes on your skincare regimen!
We've got you covered with 30% off SkinMedica products!
So here's the story…Shop online at atallamd.com for all your favorite Skin Medica products like Essential Serum, HA5, Eye Bright, and many many more…RECEIVE 30% off your total order at checkout!! This limited offer gets even better…You'll also receive FREE 2-day shipping + BD points for all members!
Sound too good to be true?! Well, we thought so, too! But it's real. And we're so excited to pass this savings on to you!