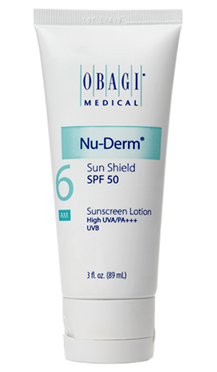 Nu-Derm Sun Shield SPF 50 combines UVB absorption and UVA blockage for high sunscreen protection in and elegant, matte finish that can be used on nearly all skin types. Nu-Derm Sun Shield SPF 50 features the active ingredients Zinc Oxide (10.5%) and Octinoxate (7.5%).
When it comes to transforming aging skin, nothing else is Obagi Nu-Derm. Throughout our lives we all experience occasional sunburns, regular sun exposure, hormonal changes, stress, and environmental pollution. All these factors contribute to the signs of premature aging. The Nu-Derm System has been formulated to improve the signs of aging at the cellular level.
Improves cellular skin function
Minimizes the signs of premature aging
Reduces future photodamage
Helps skin look and act younger and healthier
Reduces acne flares
How it works
As your skin ages and is exposed to UVA and UVB rays, the turnover of skin cells slows significantly, throwing off the balance between the growth of healthy new cells and the sloughing of old, damaged cells. Additionally, collagen and elastin begin to break down, causing the skin to lose resilience resulting in fine lines, wrinkles and sagging. Daily exposure to UV light then accelerates this aging process and may cause uneven coloring.
What are the effects of photodamage on your skin?
Signs of photodamage and aging:
Age spots
Fine lines and wrinkles
Rough skin
Skin laxity
Erythema (Redness)
Sallowness (Complexion)
Hyperpigmentation [Discoloration]
How does the Nu-Derm System transform your skin?
The Nu-Derm System penetrates below the surface of your skin to transform skin cell functions at the cellular level and correct the damage within.
Using a specific dose and frequency that's recommended specifically by your skin care professional for your skin condition, the prescription-strength system exfoliates old skin leaving healthy, new skin that looks and acts younger and healthier.